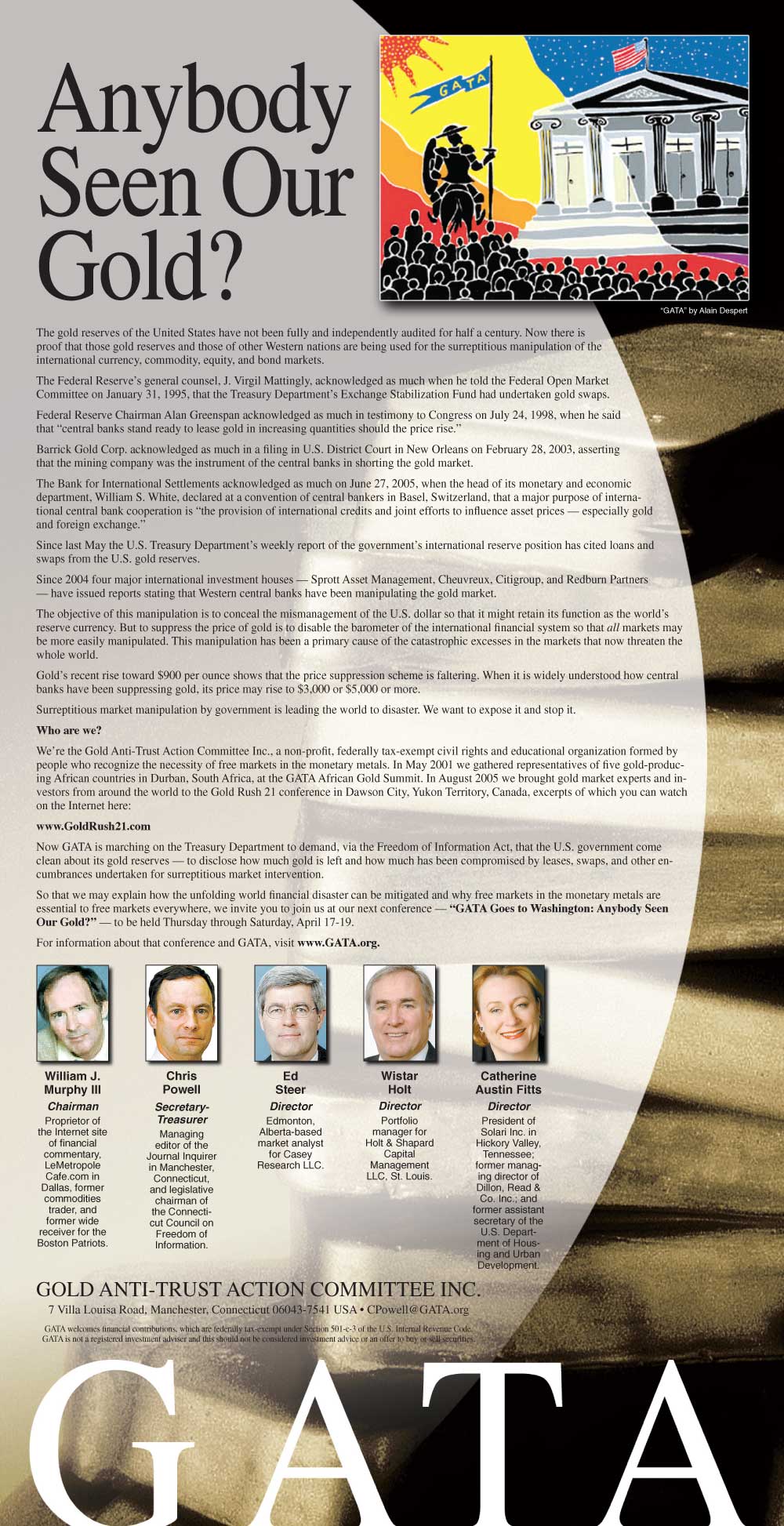 GATA urges Paul to probe Fed's gold swaps; he tells CNBC he will
Submitted by cpowell on Wed, 2011-05-25 22:09.
Section: Daily Dispatches
6:14p ET Wednesday, May 25, 2011
Dear Friend of GATA and Gold:
Yesterday GATA Chairman Bill Murphy and your secretary/treasurer met in Washington with U.S. Rep. Ron Paul, R-Texas, chairman of the House Subcomittee on Domestic Monetary Policy and Technology, and two of his staff members. We reviewed GATA's work and the information produced by our recent successful freedom-of-information lawsuit against the Federal Reserve and urged him to press the Fed for accountability, particularly in regard to its manipulation of the gold market, its involvement with the U.S. gold reserve, and its secret gold swap arrangements, the latter admitted to GATA by Fed Governor Kevin M. Warsh as we began our litigation in 2009:
Paul told us that he planned to address these issues at hearings of his subcommittee in June on legislation to audit the U.S. gold reserve, and he elaborated this afternoon in an 11-minute interview with CNBC. Paul told CNBC:
"I'd sort of like to see how much gold is actually there and whether we've made any agreements to loan out our gold or sell the gold, because there's a lot of questions about that. As a matter of fact, I'm going to have hearings on having a true audit of the gold, and they're very, very resistant to that. But if the gold is all there and there are no attachments to the gold, what's the big deal? Why shouldn't the people know that it's there?"
Paul added in the CNBC interview that his broader objectives include getting the Fed out of central economic planning, getting the United States out of its fantastically expensive foreign military adventures, and allowing people to keep more of the fruit of their labor.
GATA will be providing information to Paul's office for possible use in interrogation of the Fed.
You can watch CNBC's interview with Paul at its video archive here:
CHRIS POWELL, Secretary/Treasurer
Gold Anti-Trust Action Committee Inc.
=======================================
Join GATA here:
Gold Rush 2011
GATA's London Conference
Thursday-Saturday, August 4-6, 2011
Savoy Hotel, London, England
http://www.gatagoldrush.com

Support GATA by purchasing gold and silver commemorative coins:
Or by purchasing a colorful GATA T-shirt:
Or a colorful poster of GATA's full-page ad in The Wall Street Journal on January 31, 2009:
Or a video disc of GATA's 2005 Gold Rush 21 conference in the Yukon:
Help keep GATA going
GATA is a civil rights and educational organization based in the United States and tax-exempt under the U.S. Internal Revenue Code. Its e-mail dispatches are free, and you can subscribe at:
To contribute to GATA, please visit:
http://www.gata.org/node/16